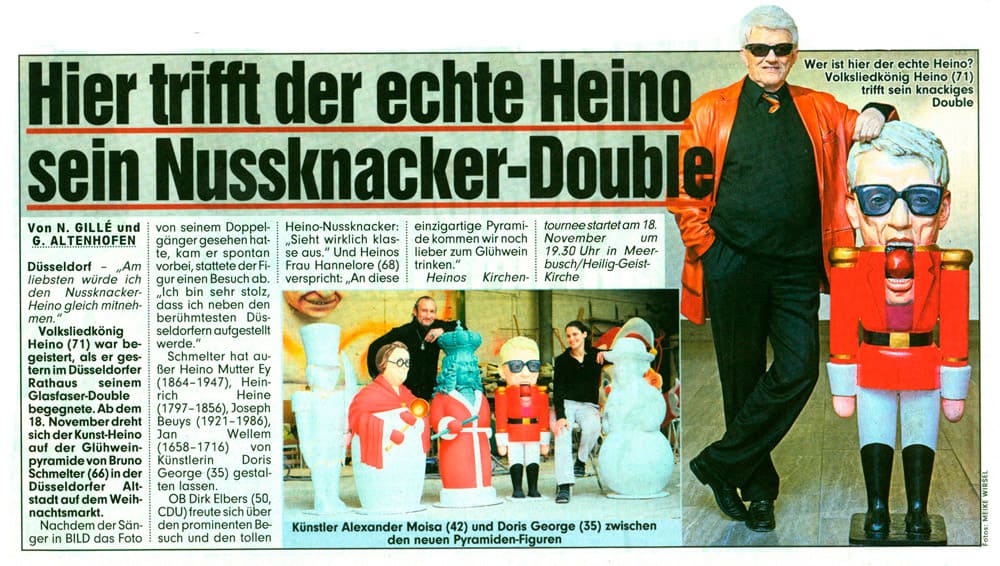 Düsseldorf – "I would love to take the nutcracker Heino with me right away."
Folk song king Heino (71) was thrilled when he met his fiber optic double yesterday in Düsseldorf City Hall. From November 18, the Kunst-Heino will be rotating on the mulled wine pyramid by Bruno Schmelter (66) in Düsseldorf's old town at the Christmas market. After the singer saw the photo of his double in BILD, he spontaneously stopped by and paid the figure a visit. "I am very proud that I am positioned next to the most famous people from Düsseldorf." Apart from Heino, Schmelter has mother Ey (1864 – 1947), Heinrich Heine (1797 – 1856), Joseph Beuys (1921 – 1986), Jan Wellem (1658 – 1716) designed by the artist Doris George (35) .
Mayor Dirk Elbers (50, CDU) was happy about the prominent visit and the great Heino nutcracker. "It looks really great." And Heino's wife Hannelore (68) promises: "We'd rather come to this unique pyramid to drink mulled wine.
"
Photo:
Artists Alexander Moisa (42) and Doris George (35) between the new pyramid figures
Who is the real Heino here? Folk song king Heino (71) meets his crisp double.
To the characters .